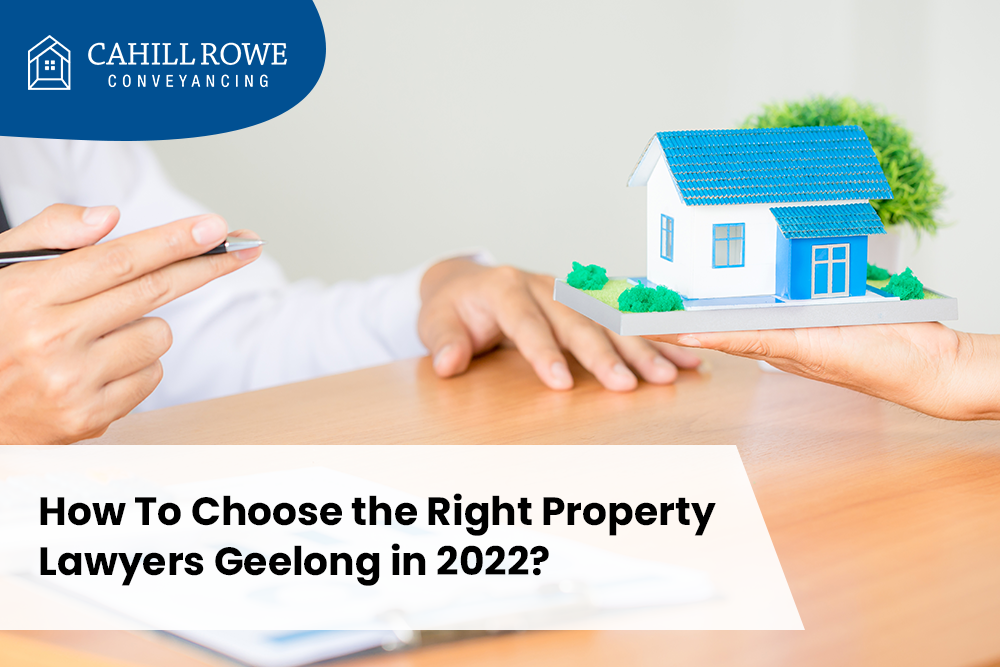 How To Choose The Right Property Lawyers Geelong in 2022?
Real estate attorneys are legally entitled to prepare and analyse documents and contracts connected to the sale and purchase of a home. Both the buyer and the seller may use an attorney to safeguard their rights during the home-buying process. Real estate and property law also govern the financial aspects of a property, such as mortgages, liens, and foreclosures. If you have purchased or are thinking about purchasing real estate property, whether it is a house, a commercial building, or a plot of land, you should consult with a real estate lawyer to protect yourself against any unanticipated obligations that may be linked with the property. Real estate attorneys regularly advise clients on freehold and leasehold property transactions, as well as various property rights such as tenant rights and rights of way overland.
Choosing a Property Lawyers Geelong to work with is an important step whether you're buying, selling, or refinancing your house.
Real estate contracts are frequently loaded with legal jargon that the average person finds difficult to understand. However, if you choose the right attorney to assist you with the real estate transaction, he or she can help relieve your stress by ensuring that all of your documents are in order and ready to sign, that the deed has been drafted, and that all of the necessary paperwork has been completed in accordance with the applicable laws.
Choosing the right real estate lawyer will go a long way towards ensuring a property acquisition or sale.
Here are some recommendations for finding a Conveyancing Property Lawyers Geelong to work with:
1. Hire a real estate lawyer.
If you've determined that you need the aid of a real estate attorney for a real estate matter, ask your lender, title firm, or real estate agent for a suggestion. You can also seek guidance from family and friends. Make an appointment with a real estate lawyer to determine whether it is a good fit. Although it may seem obvious, some clients make the mistake of addressing any lawyer. Some folks may choose a family member who helped them with their divorce or a lawyer who is close to them. Not every lawyer can help you with real estate. The law is complicated and constantly evolving, and experienced real estate lawyers have encountered many cases similar to yours. If you ask a lawyer who specialises in this area, you will receive the expected replies.
2. Previous experience is essential.
Your real estate lawyer should have hundreds, if not thousands, of transactions and several years of expertise. This means your lawyer has seen it all and will be able to provide you with the necessary support and guidance during your transaction.
3. Hire a reputable lawyer.
Many lawyers provide a free introductory consultation. Make the most of the situation. Use the meeting to determine whether or not the attorney is frank and honest. Some people have an instinctual ability to assess a person's personality after only a few minutes of interaction; nevertheless, there are a few personality qualities that can also offer you a hint. Inquire about the chances of your lawsuit prevailing or failing. If the lawyer appears overly optimistic and fails to warn you of the risks or minimises the costs of the lawsuit, he or she is most likely not telling you the truth. Remember that almost every situation contains disadvantages and risks!
4. Get in touch with your Bar Council association.
Your local bar organisation can provide you with a list of real estate attorneys in your area. Using the state bar as a reference also assures that the attorney you employ is legally permitted to practise law in your jurisdiction. A list of attorneys can usually be found by phoning the bar association or visiting their website.
5. Lawyers can complete jobs that real estate agents cannot.
It is recommended that in some transactions, a lawyer be consulted rather than relying entirely on the legal advice offered by the real estate agent. Because real estate brokers do not often have the necessary legal knowledge, their contracts are typically essentially standard forms. Unlike an agent, a real estate lawyer can add specific stipulations to the Property Transfer Service Geelong and modify the contract. Any real estate transaction, including specifications, should be supported by a lawyer who specialises in the field.
6. Investigate lawyer testimonials
Using a number of web platforms, clients can offer reviews of attorneys they've hired to represent them in various types of legal issues. Reading about other people's experiences with an attorney can help you decide if he or she is a suitable fit for you. Property lawyers help clients transfer property ownership. They are well-versed in the complexities of state and municipal legislation in order to aid their customers in the acquisition, use, and transfer of property.
7. Don't put off contacting a lawyer for too long.
Many instances, you will contact a lawyer after you have already signed a contract and discovered aspects with which you disagree, or after you have already been sued for debt collection and are looking for legal help. As a result, contact a lawyer as soon as you notice a problem so that they can aid you with immediate solutions. For example, if you've already purchased a home and discovered some unpaid taxes, it's too late because you're the owner and are responsible for what you've purchased. Court action necessitates the payment of a lawyer, as well as court and other fees. You won't have any of these problems if you hire a lawyer from the start. Hiring a lawyer is obviously expensive, but you will save a lot of money in the long run.
What do real estate lawyers do?
Real estate lawyers perform the following duties:
They advise their clients on a variety of real estate-related issues.
They create documents such as memorandums of understanding, lease agreements, leave and licence agreements, and so on.
Real estate lawyers can also work in law firms, government firms or public departments, state government RERA divisions, or real estate companies.
Detailed due diligence includes everything from completing a title search to reviewing share certificates and ownership documentation to overseeing and registering the property's sale.
Perform complex regulatory and compliance services in accordance with evolving laws.
Settlements and dispute resolution in district and higher courts.
To hire the greatest, you must first make contact with the best. To discover more, contact Cahill Rowe Conveyancing right away.